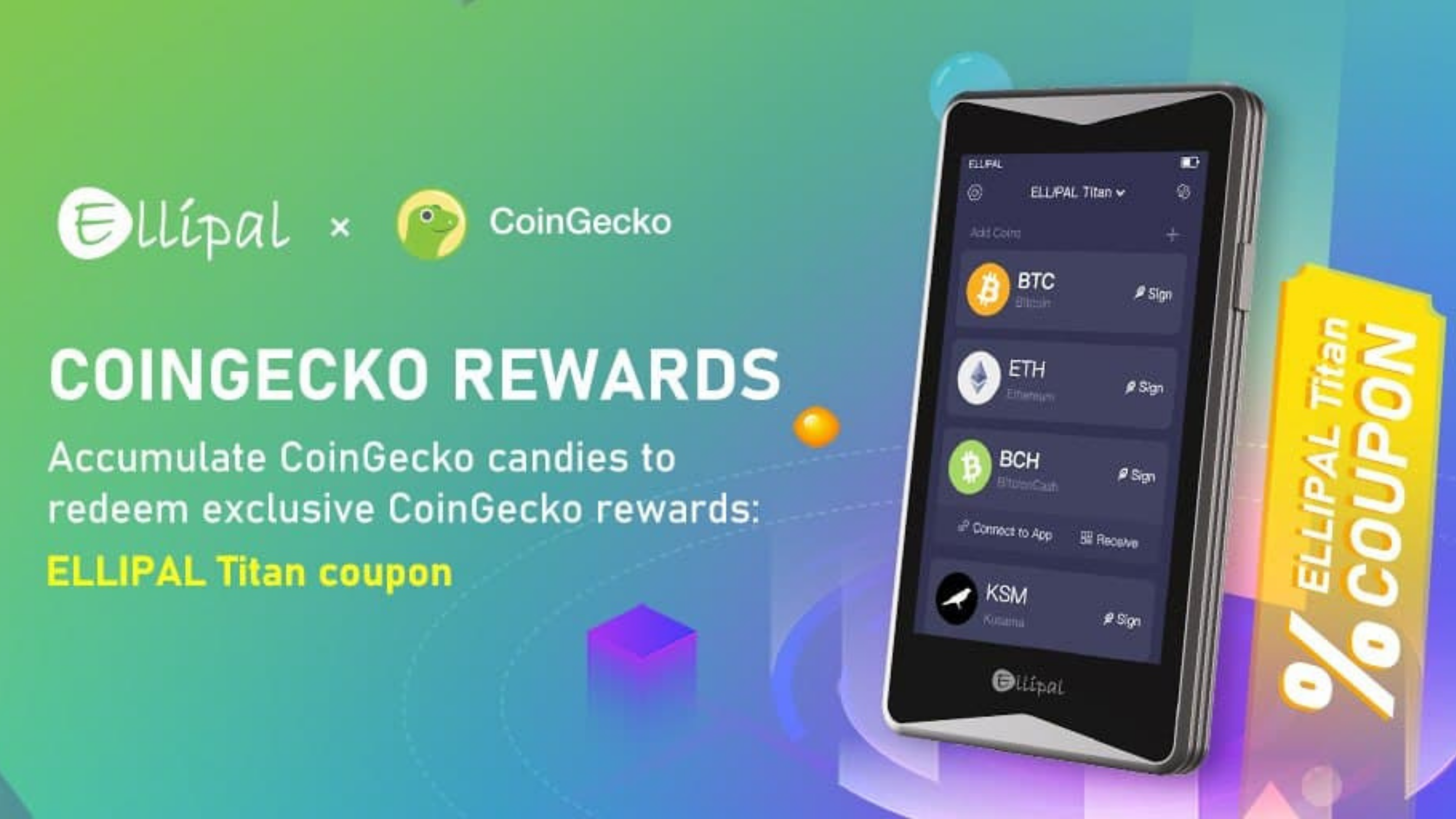 $5 off ELLIPAL Titan Cold Wallet
How To Use
Redeem the voucher code.
Click "Use Now" to apply the voucher code on CoinGecko Store.
With this voucher, you can redeem CoinGecko's "ELLIPAL Titan Coupon code 5 USD" 
This discount code can be used at https://www.ellipal.com/?rfsn=5959100.dc5753 before checkout and it is only applicable to ELLIPAL Titan Cold Wallet.
Highlight
With this voucher, you will get ELLIPAL Titan cryptocurrency hardware wallet discount.
ELLIPAL Titan is the best cold wallet.
Air-gapped
Keep remote attacks away
Built with no online components or ports.
Absolute protection against remote and online attacks.
Private keys stored will never touch the internet.
Anti-disassembly & Anti-tamper
Protection against physical and supply chain attacks
Cannot be disassembled without leaving serious damages - preventing supply chain attacks.
Chip will delete every data when it detects a breach.
Trustless trust
Full control: sign what you see
You don't have to trust ELLIPAL or anyone, but you can trust the cold wallet.
ELLIPAL's QR codes are open data format. It is public, verifiable and offline.
Only QR codes are used to transfer data from the cold wallet, the QR code format is controlled, verifiable and transparent.
You can be sure that the private keys are never transmitted through the QR code.
Supports importing mnemonics and private keys from other wallets, you do not need to trust keys generated by ELLIPAL.
Terms and Conditions
This coupon is only applicable to ELLIPAL Titan cryptocurrency hardware wallet.
ELLIPAL does not store your personal data. We use Shopify for generating shipping labels and customs forms then process a customer data deletion request once your order is complete.
ELLIPAL Titan will be shipped 1-2 business days after the order is placed and are expected to be received in 3-7 days.
ELLIPAL Terms & Conditions, Shipping Policy & Privacy Policy.
For all customer service enquiries, please email ELLIPAL at CS@ellipal.com
One redemption per user.
Each unique coupon code can be used only once. 
About
ELLIPAL Limited is headquartered in Hong Kong and is a blockchain technology company focused on cryptocurrency safety and blockchain service facilities. ELLIPAL's mission is to link every individual safely and conveniently to the blockchain, providing users with one-stop secure cryptocurrency management services on mobile.