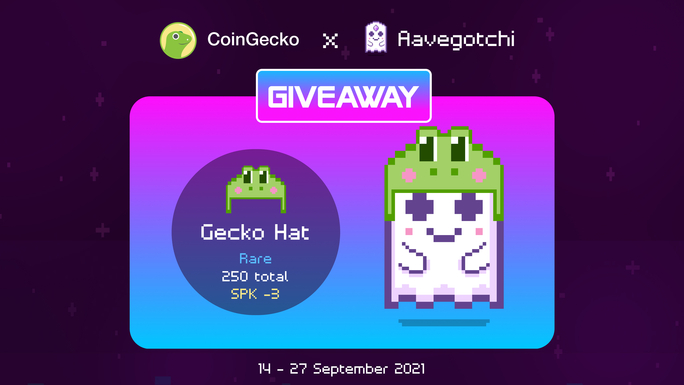 CoinGecko x Aavegotchi NFTs Giveaway - Candy Contest
Valid until 31 August 2021
How To Use
Click on Use Now to apply this reward on the merchant's site
Highlight
250 Lucky winners will win an exclusive Aavegotchi themed NFT!
Aavegotchi wearables are more than fashion, each item has trait boosting effects that help your favorite ghost level up. This adorable Gecko Hat offers a -3 spookiness effect meaning your gotchi will climb any cuteness leaderboards. With only 250 total mints available, the Gecko Hat is rated "rare". Each rare-level wearable offers an additional +5 boost to its base rarity score so this cute little hat actually packs a lot of punch!
To be eligible you have to:
1 point = 1 entry. The more entries you have, the higher your chances are of winning ;)
Enter now to be one of the few lucky winners who will receive this amazing prize!
Terms and Conditions
The contest runs from 14 September 2021 00:00 EST to 27 September 2021 00:00 EST.
In this giveaway, the CoinGecko Candy Code Voucher is permitted to 1 entry per participant.
All participants are required to paste the unique voucher code into SweepWidget.
If the winner does not respond after a reasonable number of attempts (3 times across 3 days) have been made, CoinGecko will re-select another winner.
CoinGecko and their reward partners reserve the right to switch the prizes out for something else of equivalent value in the event of any unforeseen circumstances.
One user may only win once - CoinGecko reserves the rights to re-select winners that appear to be same user.
Candies spent are non-refundable.
CoinGecko employees and their immediate family members (spouses, parents, children, siblings and their respective spouses, regardless of where they live) or persons living in the same households of such employees, whether or not related, are not eligible to enter the contest
Partners or relations of partner staff of the institutions involved in the launch of contests and relations of the judging committee are not eligible to compete
CoinGecko reserves the right to disqualify submissions that are not consistent with the Organization's values and guiding principles
CoinGecko also reserves the right to verify the eligibility of any entry and/or entrant (including an entrant's identity and address) and to disqualify any entrant who submits an entry that is not in accordance with the Contest Rules, including these Rules, Copyright and Privacy, or who tampers with the entry process
About
Aavegotchis are on-chain collectible ghosts staked with Aave's interest-generating aTokens.
Compete for player rewards by earning XP, dressing up, and increasing the rarity of your Aavegotchi fren. Aavegotchi is governed by the AavegotchiDAO and the native eco-governance token GHST. Summon your first Aavegotchi today and join the future of playable NFTs!
Aavegotchi.com | Discord | Wiki | Medium | Twitter | Telegram | Reddit