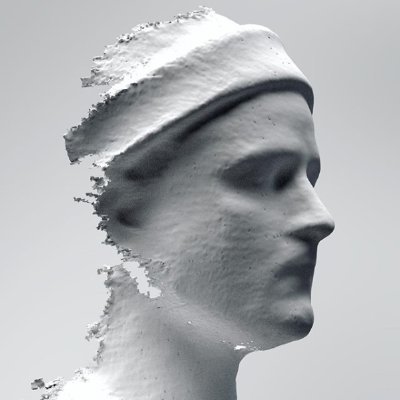 Sven Eberwein
Sven Eberwein might be a digital design modeler at Tesla, but behind the scenes he is an exceptional digital artist who is also making waves in the NFT space. From being the first artist to work with $MEME, to revolutionizing environmentally friendly digital art, his artwork is for the viewing pleasure of everyone on the Internet.
Don't compromise or adapt your work to fit the market. I think long term the most important advice to become successful, is to do what you really love.
Interested to learn more about Sven? We caught up with him to dig a little deeper into his creative process, his work with carbon offsetting, as well as what the future of NFTs could look like. 
How did you first get involved with art?
I vividly remember the first time I opened up Maya in my early teenage years. I had seen a video on YouTube where somebody had built a 3D Model and replaced it with an existing one in GTA Vice City. I didn't know how, but I knew, I wanted to do the same. Ever since, the creative application of software has been my life.
🍣 vs.🦄 , one of Sven's most popular NFT released during the summer of 2020 on Superrare
What was your first experience with NFTs like?
The first time I heard about crypto art was at Burning Man. I was part of a group building an art installation and so I met Sky.

 He was familiar with my digital works and explained to me the concept of tokenization and the ERC-721 standard. I immediately fell in love with the idea, since I was into crypto already, but hadn't connected the dots yet.
How did the people around you react when you first talked about it?
Confusion. I think most people just didn't understand and I didn't make an effort to explain the concept behind it. Over time, as the NFT space got bigger people started to ask me a lot about it and were really interested and positive about it.
Where do you take inspiration for the visuals from?
Always different, usually it just starts with an idea and then develops as I start working on it.
How did your collaboration with $MEME come about?
Jordan reached out to me and was asking if I would like to do a collaboration with $MEME. I had just heard of the project and found it very funny and innovative. So I was on board immediately. 
Pineapple Ponzi, the collaborative artpiece between Sven and $MEME
Could you share more about your stance on crypto's ecological footprint?
I would like to refer to my Foundation blog. It's a very complex and multi layered issue that needs a longer format to answer: 
Which project are you the most proud of? 
My CO2 Offset works. I did a few NFTs where I initially bought a certain amount of CO2 offset credits and attached them to the minted artworks. 
How do the mechanisms work for projects that work to offset CO2 emissions?
I work with Offsetra, who specializes in facilitating the transaction between carbon capturing or prevention projects and customers who are willing to purchase CO2 offset credits and retire them. They curate and find very high-quality projects, whose carbon emissions they capture and then sell to the market. After I purchase them, they get retired in the Verra registry. By purchasing those credits and retiring them, the carbon is no longer available on the market and the climate-positive projects selected by Offsetra receive capital to continue to grow out their operations and expand their efforts in producing renewable energy. 
How does your latest project on Foundation impact the environment? 
I think it's best to check out the works themselves. My favorite one from the series is the one that offsets 484tonnes of CO2 emissions - equal to one second of global petroleum consumption.
How do you think fractionalized NFTs will integrate into the art space?
I see all the technical building blocks of NFTs as tools for creative expression. Fractionalisation just adds one more instrument artists and creators can use to express their ideas and create art that follows a new set of parameters.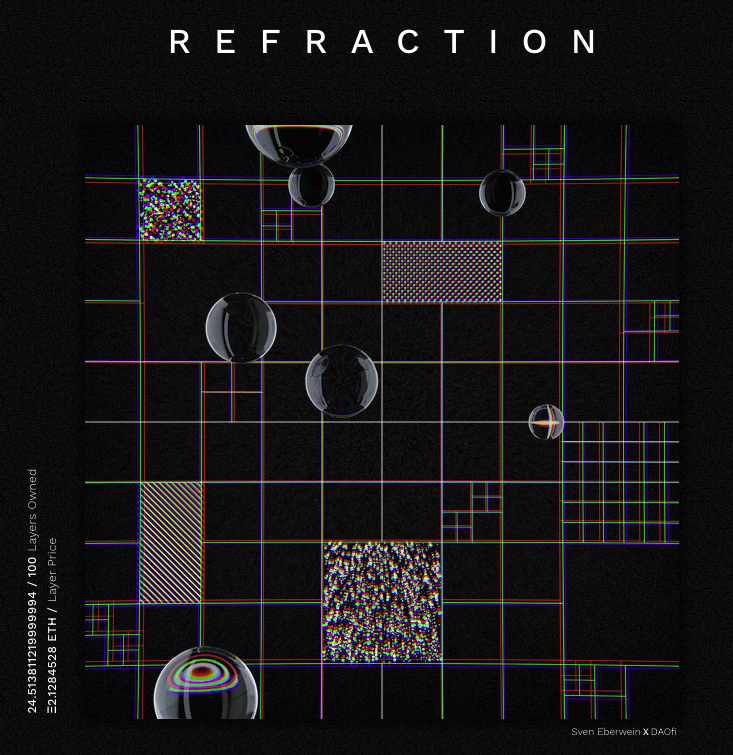 Refraction by Sven. This art is represented by individual shards that can be owned individually and mutates over time.
We noticed that your latest art project was "Refraction" which consists of multiple shards and mutates over time. How would you describe this art and how this experiment differs from your other work?
The biggest differentiator is that Refraction is a programmable artwork NFT. It combines NFT fractionalisation with DeFi, bonding curves and Decentralized Exchanges. Everytime a fraction of the art is bought or sold on the DEX, the work is changing.
What do you think the future of NFTs will look like?
Bright! 
Being in the crypto art scene for so long, how do you see the space evolving next?
This might be an unpopular opinion but I believe that the space has become a bit overheated. Long term I strongly believe that NFTs will become a default instrument for managing intellectual property and to establish digital provenance for more than just digital art. In the short term I think we all need some breathing space to figure out how to best use and evolve this new paradigm. 
What advice would you give to aspiring artists?
Don't compromise or adapt your work to fit the market. I think long term the most important advice to become successful, is to do what you really love.
---
Sven Eberwein X CoinGecko Drop
In this drop with Sven Eberwein, there are 3 artworks designed by Sven himself that depict the studies of a gecko. "Gecko & Candlesticks" and "Shape Study of a Gecko" are moving visuals and "Two deformed Geckos" feature a static image of two interacting geckos. In Sven's artwork, he likes to use computers to let things behave in ways they would never have been in the real world.


Gecko & Candlesticks 


(1/1 Legendary Art)
In Gecko & Candlesticks, the gecko is shown eating up Candle Sticks while rotating around an axis. This is intimately related to the nature of CoinGecko as the world's leading independent cryptocurrency data aggregator. 
We raised 10 ETH on our Auction on OpenSea.  Proceeds were used to cover transaction and minting fees, with the rest donated to Mint.af to further support the NFT space, as well as to groups in need outside the cryptosphere with the help of The Giving Block.


Shape Study of a Gecko 


(5/5 Rare Art)
Shape Study of a Gecko depicts a Gecko shifting in various forms. The Gecko here is nimble and adapts to the different angles it is being observed from. 
5 lucky winners won this limited edition NFT.


Two Deformed Geckos 


(1000/1000 Common Art)
Two Deformed Geckos, show Sven's experimentation with the Gecko form and exploring different abstract postures. The cartoonish abstraction of real objects is one of Sven's most persistent elements in his work.



Redeemable using CoinGecko Candy, the 'Two Deformed Geckos' NFTs were all snatched up in less than 10 minutes!  Keep collecting candy and keep alert for our next NFT drop. 
If you do not own any fine art NFTs, now is your chance!