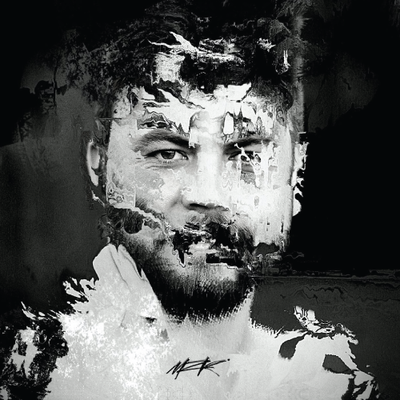 MZK Visuals
Kaloian Toshev, also known as MZK, is an artist, illustrator, and designer who is passionate about female beauty and bringing it to new forms to the world. He works with digital art and aesthetics in design to bring impact to his artworks. When he's not designing, you can find him practising snowboarding, kite surfing, and the martial art of Wing Chun.
Don't settle. Explore, create, break, fail, and win but don't settle and don't stop creating.
How did you first get involved with art?
Actually I've been drawing all my life, ever since I was a kid. My father used to paint as well, so I was always encouraged to draw. However, it was in school when I bought my first digital tablet that I started creating art, not just doodling and sketching.
MZK digitally crafts his artworks using custom-built tools alongside 3D and 2D software
How did you discover NFTs?
I heard about crypto art about a year ago but I thought it's just art with a crypto theme. I discovered NFTs when Beeple sold one of his works for 6 million 2-3 months ago.
How did the people around you react when you first talked about NFTs?
Everybody is wondering how a jpg can cost so much and why people buy it. However, they are very supportive when I explain how awesome the NFT concept is and when they see how passionate about it I am.
Can you tell us about your journey from your first dabble with digital art to where you are today as an NFT artist?
It all started when I got featured in DeviantArt many years ago, I had just bought my first tablet and realised that people actually like what I do. I was doing only vector art then but slowly shifted towards raster works as it gives more freedom of expression. Also realised that the female forms fascinate me a lot and it's something I can explore a lot. Got featured a few times on Behance and other websites which helped me realise I can be a top-level digital artist and it's something I can do for a living. After that, I had my first solo exhibition in one of the biggest galleries in Sofia and sold all my artworks. In the years after I've worked as a freelance illustrator for different clients and I was selling my works as prints and t-shirts. In the last couple of years, I've focused more on art, exploring vivid colors, and searching for a more unique style. Today, NFTs helped further develop my style and push me to create only the very best I can produce.
What companies have you collaborated with and how was your experience?
Coca-Cola is my latest collaboration. They asked me to design 12 characters for their cans and bottles. They really liked the style I developed for them and it was a pleasure working on that project. Also, it's so amazing to see your design everywhere you go. Another collaboration is with Audi. I did the car reveal cover for their Audi Q2 presentation in Sofia. Also, Absolut, I did a physical multidimensional sculpture made out of 12 two-meter tubes. They really liked it and I was really happy with how people perceived it. I've worked for Heineken, Wacom, and Ballantines as well and It was always a great experience.
One of MZK's proudest achievements is collaborating on can designs with Coca Cola Bulgaria  
Which project are you the proudest of?
The works in my genesis NFT drop, as I believe they are the best I have created. Also the works I showed on my first solo exhibitions as I've worked a couple of years on them. The Coca-Cola project I mentioned above. The snowboard I designed for Cloudnine. And my latest project with CoinGecko as I believe I'm pushing my limits here and I really like the result.
What is your inspiration behind your mission to turn girls into the queens that they are? 
I believe every woman has beauty within even if she doesn't show it or realise it. I try to draw my women as beautiful, powerful, and admirable females. Because every woman is a queen for someone.
MZK's 'Simulacra Beauty' series explores female beauty in the Metaverse
What is your process for creating your NFTs?
It always starts with a few sketches, just to test the idea and the basic composition. Then I draw the character on Procreate. After that, I switch to a custom build software for iPad and use different displacement effects to explore abstract shapes. Then switching a lot between those two apps till I have something I really like that has a focus point and abstract part. After that, I move to Blender and explore further with shapes, textures, and animation. In the end, I combine the animation and sound in a video editing software.
What do you think the future of NFTs will look like?
I believe NFTs are here to stay. They will become the norm. In the near future, everything digital will have an NFT. As for digital art, I believe NFTs will become something standard, something you don't think about. Like you just post your work to your favorite website and you automatically have an NFT of that work.
What advice would you give to aspiring artists? 
Don't settle. Explore, create, break, fail, and win but don't settle and don't stop creating.
Visit MZK's website to check out more of his feature works and exhibitions
---
MZK X CoinGecko Drop
For this drop, MZK created two pieces entitled "The Kiss" and "The Keeper."  Both are animated visuals that incorporate his artistic style with the Gecko. MZK's process of creating art is heavily influenced by shapes, textures, and animation.


The Kiss


(1/1 Legendary Art)
This artwork was inspired by the popular fairytale, "The Princess & The Frog." Here, a Gecko brings good fortune to the cryptomarket and "to the owner of the NFT and that everyone lives happily ever after."
We raised 6.68 ETH for our Auction on Foundation.  Proceeds were used to cover transaction and minting fees, with the rest donated to The Mint Fund to further support the NFT space, as well as to groups in need outside the cryptosphere with the help of The Giving Block.


The Keeper


(1000/1000 Common Art)
"The Keeper" represents the growing popularity of Bitcoin and cryptocurrency.  MZK created this piece as a good luck charm, "When the Gecko appears...it attracts more coins.  Owning this NFT helps you HODL."  
"The Keeper" was fully redeemed in less than 5 minutes!