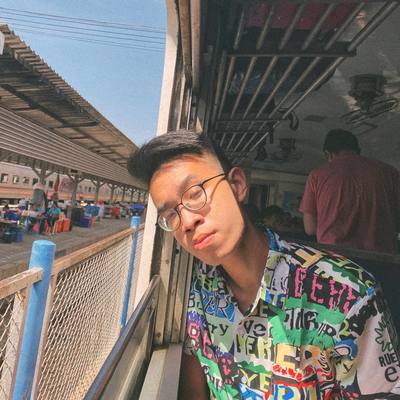 Ronald Ong
Visual artist Ronald Ong creates surreal artworks in Photoshop, mainly composed of nature and animals. His conceptual and minimalistic style that transcends beyond the whimsical worlds will leave you questioning the true form of reality.
I see NFTs as an expanded form of art that manifests concepts of value, ownership, and networked community
How did you first get involved in art?
I have been the kind of child that surrounds myself with art. I tend to express my feelings through art and it has never failed me. Drawing and painting played a huge role in my childhood. I would literally draw anything, from cars to beautiful scenery that I saw in Nat Geo. Funnily enough to recall, I actually tried to sketch out Sci-Fi movies scenes in my textbooks. Art is pretty much a huge part of my life, even until today. Even on days when I'm not creating Photoshop composites, I will find myself involving arts such as sketching ideas for my upcoming projects and analyzing movies which I consider an art form too. 
"Zebreo" is Ronald's first NFT on SuperRare
How did you discover NFTs? 
I was on an Instagram hiatus back in early February this year. A friend of mine, also an amazing creator in the space (@markrender) introduced me to the term NFT which means Non-Fungible Tokens. Without much hesitation, he sent me a Foundation platform invite after he made his first sale which I am still very grateful for! I had zero clue about this new space even though I have been in the art space for at least 5 years. So, out of curiosity, I ended up doing lots of studying and research on topics around NFTs. I spent days trying to understand what NFTs are and wrap my around the fact that people are spending huge sums on a jpeg. It didn't make any sense to me in the beginning. 
Why did you decide to dabble in NFTs?
After taking quite some time to understand what NFTs actually are, I decided to embark on this journey. NFTs are providing artists a whole new way to sell their creations, to finally be able to make a living out of doing what they love, with 100% freedom towards the execution of their ideas. I see NFTs as an expanded form of art that manifests concepts of value, ownership, and networked community. Also, I absolutely love the idea of uniqueness in artwork, which is the main selling point of NFTs. 
Can you tell us about your journey as a NFT artist in Malaysia?
As far as I'm aware, NFTs are still very new in Malaysia. I only know several local artists that dabble in NFTs. I have been in this space for 4 months and built a lot of amazing connections with people that share the same passion for art (shoutout to my NFT Asia fam). We have had conversations of real world experiences from people that work in the art industry to funny small talks. It's very interesting to see how NFTs actually brought artists from different walks of life together. 
"Head in The Cloud" is Ronald's favourite artwork
Which artwork are you the most proud of?
The piece that I'm really proud of is 'Head in The Cloud'. I guess most of my audience will describe my style as funny/whimsical/odd. However, I had a spur-of-the-moment idea that popped up in my head, to create something more vulnerable. I took the opportunity to express my concerns regarding struggles with self-doubt and insecurities. I have never felt more empowered by creating something that was so close to my heart and resonated with others as well. This image eventually ended up as Adobe Photoshop CC Splash Screen in 2019. Till today, I will always look at this image as a constant reminder of how far I have made as an artist and human being.
Why are animals and nature the inspiration for your artwork?
I am always very drawn to nature, least to mention that my love for travelling is indescribable. I believe that most of us tend to seek inspiration from social media, which eventually hinders our ability to see the world as it is through our eyes, and experience the wonders that reside within the simplest elements around us. I always feel so connected when I'm with nature and never cease to be amazed by the beauty it offers. I hope to remind everyone that through my creations.
"Ducknana" is from the Hybrid Series
How did you develop your style of whimsical worlds with a minimalistic style?
Before I started doing photo manipulation using Adobe Photoshop, I was obsessed with minimalistic photography. My art style has kinda been inspired by that concept. I strongly believe that by cluttering the images with so many details, it does not provide viewers the visual space to build their own interpretation or narrative around it. As for the element of whimsical, being a huge fan of anything from the fantasy world as an escapism from the reality that we live in kind of explains that.
What is your process in Photoshop for creating your NFTs?
So, I will begin my work process by sketching out ideas (if I have any). Trust me, coming up with good concepts is the hardest part let alone executing it. This process might take me longer than anticipated if I start the entire process with 0 idea of what I want to create. Whenever inspiration hits me, I will take a quick note on my phone so I can work on it when I'm back on my laptop. The elements of my creations are obtained from free stock websites such as Unsplash, Pexels and Pixabay. The very interesting part of my entire art process is the execution of ideas. It evolves as I keep going and the final image often looks VERY different from my initial sketch.
What do you think the future of NFTs will look like?
I'm not a tech savvy person, but I'm a strong believer in the happening or advancement of technology in virtual reality. The value of NFTs will rise in the long term as augmented and virtual reality matures, people are going to spend more and more of their time, and therefore money, in virtual environments. I think that NFTs have a huge potential in the near future as it is going mainstream and what we are seeing right now is just the beginning of the long-winding journey ahead. 
What advice would you give to aspiring artists? 
I think this is the very era for us artists, especially those that dabble in the art industry for years, to finally be able to express ourselves freely in the form of art and once again believe in our crafts. My main advice would be try not to overmint your work on platforms because scarcity and rarity is what buyers are looking for. Keep pushing your boundaries and don't be afraid to challenge new things, this is the time to do it. Most importantly, build connections and have fun!
---
Ronald Ong X CoinGecko Drop
In collaboration with CoinGecko, Ronald has crafted two distinctive art pieces titled "Cucumgecko" and "Intergalactic Gecko" which unite both the identifying Gecko and his art style of creating new and unparalleled worlds. 
Cucumgecko
(1/1 Legendary Art)
Meet your neighbourhood-friendly 'Cucumgecko',
It's a gentle reminder for you to look around and enjoy funny little things in life.
A 24-hour auction for "Cucumgecko" will be held on SuperRare.  The auction was held on Wed, 28 July 2021 @ 10PM EST
We raised 5 ETH on our Auction on SuperRare. Proceeds were used to cover transaction and minting fees, with the rest donated to First Mint Fund to further support the NFT space, as well as to charities with the help of The Giving Block.
Intergalactic Gecko
(1,500/1,500 Common Art)
A gentle glow that will last forever in the vast Universe
This is your opportunity to own a limited-edition NFT by Ronald Ong! 
Redeemable using CoinGecko Candy, the 'Intergalactic Gecko' NFTs were all quickly snatched up! Keep collecting Candies and keep an eye out for our next NFT drop