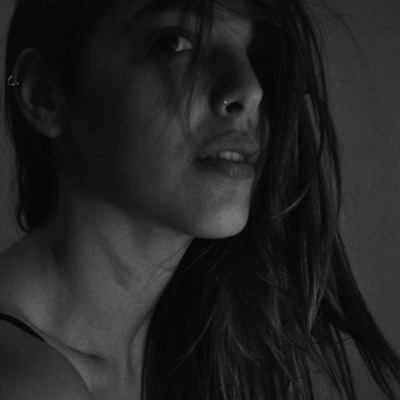 Panter Xhita
Panter Xhita's interest lies in the role of intermediary that humans play in the interaction between culture and nature. While nature is slow but surely evolutionary, culture on the other hand is frenetic and always changing at a rapid pace. Her pieces are not intended to be optimistic or pessimistic about the future, instead, they intend to show the complexity of the times that lie ahead
I don't see crypto art as a replacement for traditional art; I see it as an excellent market for digital artists who previously had a lot of difficulty finding a market for their work.
How did you first get involved in art?
I come from a family of artists, my mother is a sculptor and jewellery designer, so I have always been surrounded by art my whole life. This made the process very natural. When I was in school, I could never pay attention because I was always drawing in the middle of class and I still remember my teachers scolding me. Then I started at the University of Arts where I received my degree. Ironically, those years were the years when I produced the least art, but it helped me a lot to understand all the artistic movements and to know where I stand today. Before cryptoart, I was a painter and sculptor. 
How did you discover NFTs?
A few years ago, a friend gifted me an old Wacom tablet and I started learning and using some Photoshop on my mom's computer. I made some pieces but never gave it the time that any kind of art deserves to improve. A couple of months ago, the same friend who is also a trader, started talking to me about cryptoart. It's funny because he was always forcing me to learn about crypto and finances and stuff like that that I still don't quite get. But when he told me about cryptoart, my eyes lighted up. I saw the value of the space immediately and started digging and studying and I found a truly amazing place. I started painting every hour of every day and here I am now; with a constant headache but super happy. 
How did the people around you react when you first talked about NFTs?
My family and friends helped me a lot in the beginning and they continue to help me because the work sometimes can take a long time. My mom in particular is very open-minded so she quickly came to understand the market and the value of NFTs. It was a great help because suddenly I could no longer do my household chores, for example. However, my artist friends that I tried to introduce to the space showed a little more resistance. They were very good to me at all times but for some reason they weren't as excited as I was to investigate and get in. I believe that cryptoart, like the crypto space in general, has its resistance from a large group of people. 
Can you tell us about your journey from your first dabble with art to where you are today as an NFT artist?
I am a visual artist with a Bachelor of Arts. I had little experience with digital art before getting to know the world of NFTs to my story has more to do with physical art than digital. With the earnings of my first few weeks, I remember that I was able to buy an iPad and there is not a day that I am not painting or pracitcing or learning something new. I think I still have a lot to improve because digital art is a new tool that I'm still discovering. Today, luckily, I have a name and a space within the cryptoart community. I feel very supported by many new friends that I have made over these months and by the collectors who are watching me grow day by day. I am very excited about the future. 
Insufficient #10 is part of Panter Xhita's "Insufficient" collection on Rarible
Which project are you the proudest of? 
It's not easy to choose because they all mean a lot to me. My first few works minted on Rarible were my first experience with NFTs and taught me about this world. Other than that, my work on Known Origin is closer to my roots where I show a little more of what my reality is in a small third world town. I also really like the pieces that I did in collaboration with CoinGecko because I really liked the experience of combining my artistic concepts with the concept of the website. But if I have to pick on today, it's my project called "Insufficient" that is a collectible art project I minted on Rarible and will end soon. It is very special because it opened many doors for me, helped me meet many friends, gave me a lot of collectors, and I think it is very appreciated in the community. The project was first born physically during the first quarantine in Argentina and then I transferred it to digital without knowing if it was going to work and luckily it did. It was a success and people like it a lot which I'm really grateful for. 
What is your inspiration? 
My circumstances inspire me such as the space and the people I live with. I like to know the stories of the places where I live and I think about the past of those places and my own life. I see the present of the spaces and try to project the future. I like to play with those times, the places and the people that surround me. I like listening to people and I like relating them using a process of free association with animals and different elements of cultures. I am inspired by changes in cultures and identities. Strong women and the sweetness of humans who fight even when all seems to be lost.
What is your process for creating NFTs? 
I believe that my process is always in the process of changing. In the beginning I was unfamiliar and used very few tools, so I had to be very creative in the production. But normally my process starts with pencil sketches, and at first I used my friends, family or even myself as models. But today I am trying to create from another place, from memory and painting new bodies. I really like animals, and I am always thinking which animal I am going to paint or learning their anatomy to be able to paint them. On the compositional side, it is normally a process of free association of elements but always with a concept and a clear main idea. For now, this is my process, but I'm pretty sure it will change soon as I keep learning new tools and new ways for expressing my art.
"Lap Tortoise" is an NFT available on Rarible
What do you think the future of NFTs will look like? 
I don't see crypto art as a replacement for traditional art. I see it as an excellent market for digital artists who previously had a lot of difficulty finding a market for their work. So I think the future will be a space of coexistence between traditional art and cryptoart. As for me, a couple of months ago I didn't even know what cryptoart was, and now it's almost my whole life. So I got tired of predicting the future. Without a doubt, I see myself involved in the future of the space. Learning more about crypto, different projects, and making art like always. I think it's too early to tell if the future of art is here and I think that we don't have to worry too much about it. Because the present is already here. There are thousands of artists and hundreds of collectors and our scene is getting bigger, and we have to think not only about how to grow in the community, but also about how to grow the community itself.
What advice would you give to aspiring artists? 
It seems to me that it is a very good time to enter the community. A few months ago, when the world of crypto art was in full hype, I saw many artists entering the scene and of course with many difficulties to sell, because there were many new artists competing with each other to gain the attention of collectors. I think that's what ended up causing this low in the market. But now that we are in a more quiet time, I see few new artists coming in and I think that's a mistake. In my opinion, we are in the best moment to enter and build. Build links and earn a name in the community with hard work. So if I may give a piece of advice to any artist who may be watching this at the moment, it is: come in now, don't wait for a new hype to come in, because it can be too late then.
Visit Panter Xhita's website to find out more about her and her work
---
Panter Xhita X CoinGecko Drop
For this drop, Panter Xhita has created three unique pieces titled "Revolution," "Illusions," and "Kinder-Gecko." Revolution and Illusions are static art pieces while Kinder-Gecko is a moving visual. The pieces are a beautiful blend of the Gecko with Panter Xhita's art style. 
Revolution

(1/1 Legendary Art)
Sit tight. Watch the prices. Wait and help adoption. Do not claim victory.

Revolutions take shape when they act on the quotidian.
A 24-hour auction for "Revolution" will be held on Rarible.  The auction starts on Wed, 7 July 2021 @ 10PM EST. 
We raised 1 ETH on our Auction on Rarible. Proceeds were used to cover transaction and minting fees, with the rest donated to First Mint Fund to further support the NFT space, as well as to charities with the help of The Giving Block.
Illusions

(5/5 Rare Art)
Hold the present as if it were the future. Because today is not tomorrow, but it will be.

Even reality can be an illusion. And illusions are always the real things in life.

Row the stones in the way. There is an ocean after the waves.
5 lucky winners stand a chance to win this rare NFT!  Redeem your Candies to join the Lucky Draw.
5 lucky winners won this limited edition NFT.
Kinder-Gecko

(1000/1000 Common Art)
One happy gecko stands over some gummy bears
This is your opportunity to own a limited-edition NFT by Panter Xhita! 
Redeemable using CoinGecko Candy, the 'Kinder-Gecko' NFTs were all snatched up in less than 10 minutes! Keep collecting Candies and keep an eye out for our next NFT drop