Happy Thanksgiving, Geckos!
Despite a challenging 2020 there is still much to be thankful for in the crypto space. We've seen some bullish runs, institutional adoption of cryptocurrencies, and a boom of interest in DeFi. 
What better way to celebrate than to treat yourself to some awesome Black Friday deals. Make sure to read until the end for a sweet surprise!
It's time to upgrade your crypto experience with some deals you just can't resist.
---
1. Ledger
If you're looking to increase your security and protection with a hardware wallet, now is the time to invest in one of Ledger's wallets. 
In conjunction with Black Friday, you will get 40% off your Ledger Nano X or Ledger Nano S in just three steps. Add the wallet of your choice to your cart, in the discount field input the promo code "BLACKFRIDAY20" and the discount is automatically applied. 
2. ProtonMail
Next on our list is ProtonMail, the world's largest secure email service, developed by CERN and MIT scientists. 
With their Black Friday deal, you can receive up to 50% off your purchase from now until November 30. Choose between the three packages, ProtonMail Plus for 1 year, ProtonMail Plus + ProtonVPN Plus for 1 year, and  ProtonMail Plus + ProtonVPN Plus for 2 years. 
3. Trezor

Trezor is another great option for hardware wallets with a wide range of products to choose from. You can also shop for accessories to accompany your hardware wallet such as cables, silicone case, and cryptosteel capsules. 
From today until November 29, you can enjoy 20% off by inputting the promo code "BLACKFRIDAY2020" to your cart before checkout. 
4. OpenDime and ColdCard Wallet
You better be quick with this deal because it ends at Midnight EST on November 27! Enjoy 15% off most products ranging from ColdCard wallets to accessories and more. The discount is already automatically applied so there is no need to input any promo codes upon checkout.
5. Cobo
Moving on, take a browse through the various Cobo products that fall under the Wallet, Vault, and Custody collections. You can shop for both hardware and digital wallets that enable you to safely store, use, and invest in cryptocurrencies. 
Simply use the promo code 'BF2020' upon checkout to apply the 15% discount!
6. BalletCrypto
Looking for not one but two hardware wallets? Then this is the deal for you! The Ballet REAL Series wallet is a great addition to your endeavour to buy and store cryptocurrency. With their Black Friday deal, you get two different wallets, one which supports Bitcoin as its primary account while the other supports all ERC20 USD stablecoins. 
The 30% discount brings both wallets to an affordable $99 instead of its usual $134.
7. Crypto Cloaks
Looking to show your love for crypto in more ways? Crypto Cloaks has plenty of items that can help you proudly display your passion. Check out their coasters, sticker packs, nightlight, and more fun stuff! All you need to do is enter the coupon code "BLACKFRIDAY" upon checkout to enjoy a 10% discount.
8. Samourai Wallet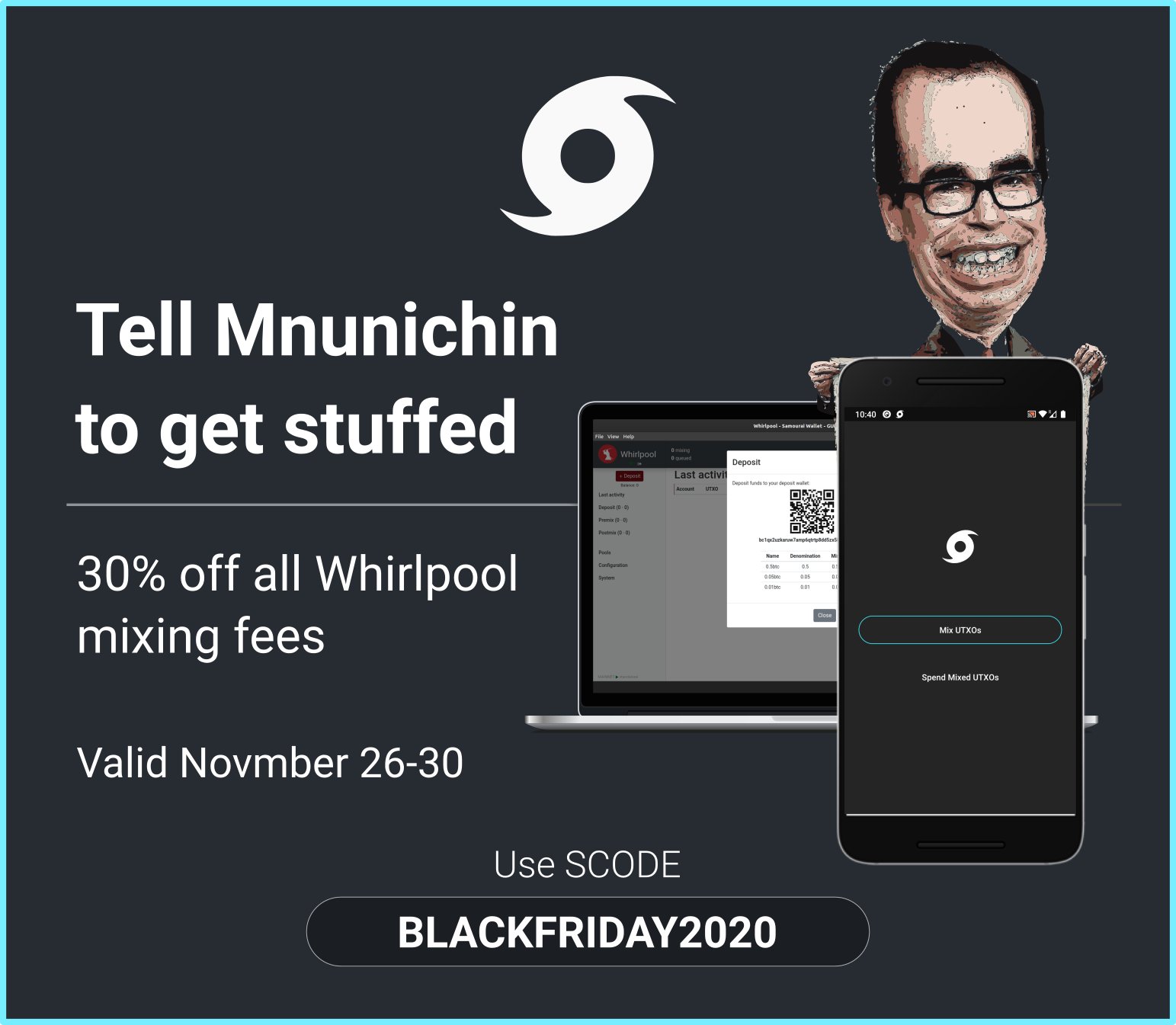 Samourai Wallet is giving customers a 30% discount on all Whirlpool mixing fees. The promotion is only valid until November 30 so you've got to be quick about it. Simply input the promo code "BLACKFRIDAY2020" to enjoy! 
CoinGecko Candy Store (Surprise!)
Although celebrations look different this year, we still want to celebrate with all of you which is why we're rolling out an awesome discount for our Candy Store in conjunction with Black Friday. While the crypto markets go on discount, so will our Candy store with 30%-off storewide starting from November 26. We hope you enjoy shopping with your Candies!
Ending Thoughts 
What better way to celebrate thanksgiving than to treat yourself to some new crypto gear at a lower price! 
All the exciting things happening in the space is just proof that crypto is here to stay. So why not equip yourself with the best tools? 
On that note, CoinGecko wishes you Happy thanksgiving and have fun Black Friday shopping! 
Tell us how much you like this article!
Stephanie Goh
Stephanie is a Public Relations Specialist at CoinGecko who is enthusiastic about food, animals, and learning more about the cryptoverse. Follow the author on Twitter @StephanieGoh7 Follow the author on Twitter @StephanieGoh7