We're hiring!
Join us on a mission to provide data for the open financial market.
Apply Now
Building a Career at CoinGecko
CoinGecko has been growing over the past few years from a 2-person startup team to a 30+ person team in 2021. And we aim to continue our growth as we head into uncharted territories in the crypto space.
In CoinGecko, we take career progression seriously, and we want the entire team to level up continuously. Work should be more than just completing tasks, and therefore, it is essential for us to answer this question:
"What does a career path look like for someone at CoinGecko?"
We studied career frameworks from other companies such as Gitlab, Buffer, and Basecamp to draw inspiration when designing our career framework. What we have developed is a career framework that includes growth opportunities beyond the traditional career paths.
We'd love for all teammates, be it individual contributors or managers, to have an equal path for furthering their careers and developing their skills.
The problem with a career path is that it's often unclear how to level up. Some want to become managers, and some do not. Some aspire to specialize in a field, while others want to be a generalist. So how do we factor these while allowing a teammate to grow beyond his or her current role?
An Individual & Manager Career Path
A traditional career framework will have the typical career growth path - moving from one level up to the next, all within clearly benchmarked role descriptions.
We wanted to include the typical vertical levels and also include horizontal steps to allow for specialized growth. We also wanted different career tracks for those who wish to remain individual contributors and those aspiring to be managers.
Here is an overview of our current career framework: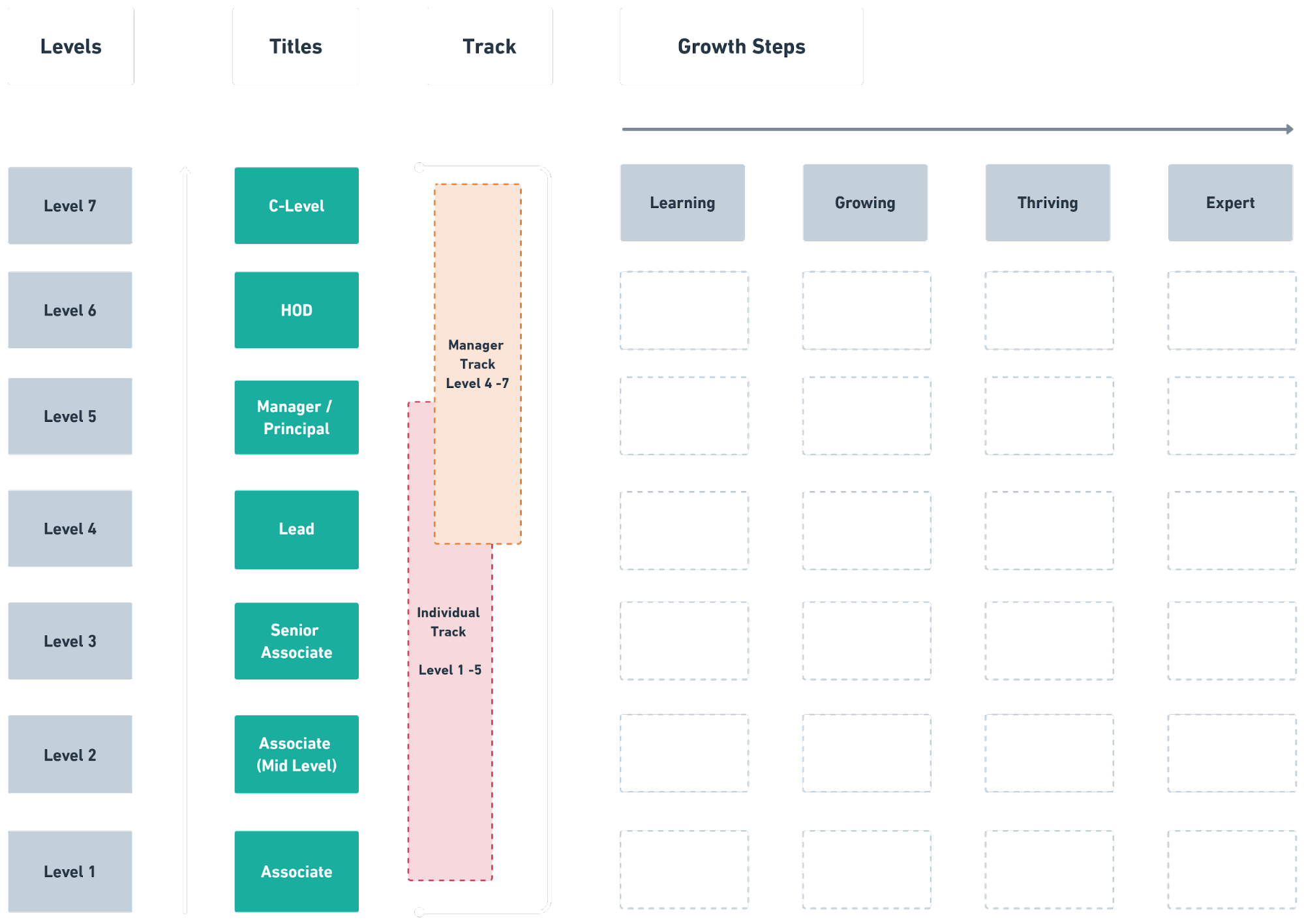 There are seven levels in CoinGecko covering all team members, from the most junior team member up to the CEO. There are two tracks in CoinGecko - the Individual Track (Levels 1 to 5) and Manager Track (Levels 4 to 7). You will notice that Levels 4 and 5 overlap and this is intentional as we allow individuals to continue progressing on a technical level without the need to take on managerial responsibilities.
At Level 4, every team member gets to decide whether or not to continue on an Individual Track or move to a Manager Track. Both tracks still allow for team involvement, but a manager is directly responsible for the teams' career development.
At each job level, we have put in place four growth steps to show progression in the current role. The four growth steps are Learning, Growing, Thriving, and Expert. A team member will have to progress horizontally through the four growth steps before moving vertically up a level, aka being promoted.
CoinGecko makes use of the Objectives and Key Results (OKR) framework in setting yearly performance goals. Every team member will prepare a scorecard and have a 1:1 career discussion with their manager each quarter. This career discussion will be used to determine the job level and growth step progression for each team member.
Here's an example to illustrate how this will work*:
Level 1 - Marketing Associate - Learning Step

A fresh graduate just starting his career would start here.

Level 1 - Marketing Associate - Thriving Step

After one year, this fresh graduate has become good at his job, and his manager has agreed that he is now at the Thriving Step.

Level 2 - Marketing Associate (Mid Level) - Learning Step

After 1.5 years, this fresh graduate has been promoted to Level 2. He is completing his tasks productively and also suggesting new ideas and improvements for the overall Marketing workflow. He still requires guidance but is able to achieve his targets consistently.

Level 4 - Marketing Lead - Growing Step (Individual or Manager Track)

Over the next few years, this team member continues growing and now spearheads projects with some supervision, has deep knowledge and expertise in a functional area of Marketing, and works with a team. He gets to choose whether to continue staying on an Individual Track or make the change to a Manager Track.
*Please note that this is for illustrative purposes only, and the level and step an individual is in will vary depending on a person's ability.
A Living Framework
CoinGecko has built this framework inspired by the framework of other companies, and we will continue iterating, improving, and designing our framework to accommodate our company growth. This is not a static framework and will change over time.
Ready to Join Us?
We hope this article helps to articulate how we think about career progression in CoinGecko. If you find this interesting, we encourage you to head over to our Job Openings and apply for one of the available roles!