What is Bitcoin Halving (Halvening)?
Bitcoin Halving is the event where the number of generated Bitcoin rewards per block will be halved (divided by 2).
In this upcoming halving, the total number of Bitcoin mined by miners per block will be reduced from 6.25 to 3.125.
This halving event takes place approximately every 4 years and ensures its monetary policy.
Why is it important?
Bitcoin's monetary policy helps ensure a gradual distribution of 21 million bitcoin over time. Unlike fiat currencies that are issued by government, bitcoin supply cannot be inflated at will. Conversely, bitcoin was designed to mimic the attributes of gold.
The supply of gold is limited to the amount that can be mined from Earth, and over a period of time becomes scarcer. The halving event is one of the method that is used to replicate bitcoin's scarcity.
As such, it can be said that bitcoin is a deflationary currency and may be an interesting asset class to hedge against inflation.
Bitcoin Halving Chart
The graphic below illustrates the inflation rate of Bitcoin over a period of time. Supply gradually tapers after each halving in order to meet the deflationary monetary policy. Miners' rewards are reduced by half and depicted in the chart as steps or stairs.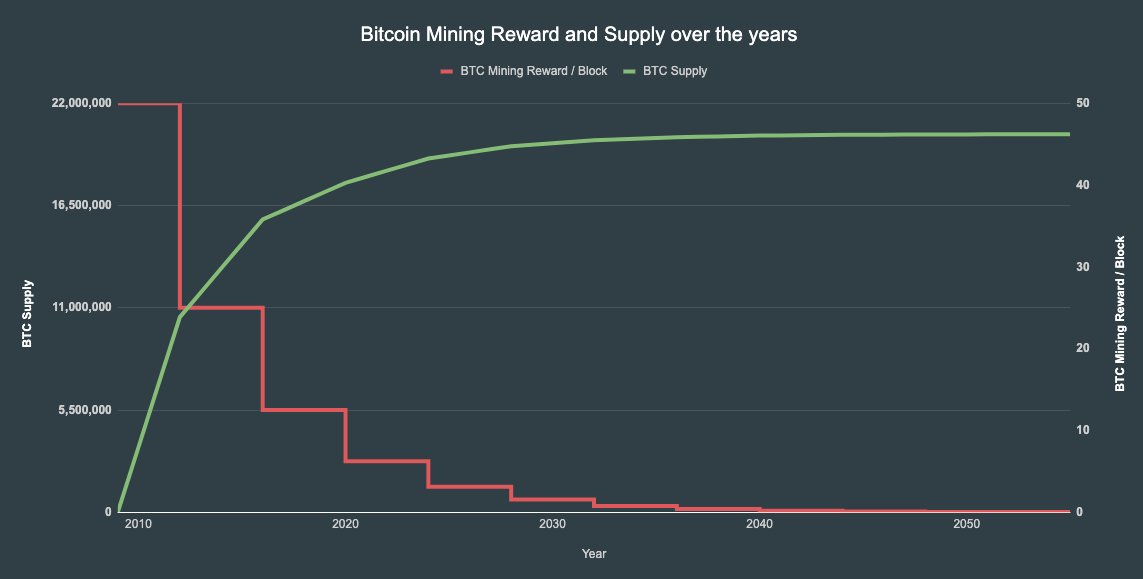 What might happen as we get closer to the halving event?
Due to the reduced supply of new coins, bitcoin may be deemed to be scarce by some market participants. Traders may enter the market to speculate on bitcoin as such introducing higher volatility during that time. However, some suggested that halving is already priced in to bitcoin.
Miners would also see their revenue reduced by half. We may end up seeing some miners who are not able to keep up with the operational cost. Those who are not able to sustain would have to shut down their mining rigs and exit the market.
This can cause the bitcoin hashrate to be severely impacted in the short term at a higher mining difficulty causing delays in the bitcoin network during transactions.
When is the next Halving?
Block #840,000 (estimated around May 24th, 2024)
When was the last Halving?
Block #630,000 (Reward reduced from 12.5 to 6.25)