TORN Price Today
Tornado Cash price today is $6.20 with a 24-hour trading volume of $2,017,620. TORN price is down -0.9% in the last 24 hours. It has a circulating supply of 1.5 Million TORN coins and a total supply of 10 Million. If you are looking to buy or sell Tornado Cash, Bitget is currently the most active exchange.
What was the highest price for Tornado Cash?
Tornado Cash hit an all time high of $436.16 on Feb 13, 2021 (over 1 year).
What was the lowest price for Tornado Cash?
Tornado Cash had an all time low of $6.14 on Oct 03, 2022 (8 hours).
What was the 24 hour trading volume of Tornado Cash?
The 24 hour trading volume of Tornado Cash is $2,017,620.
Where can Tornado Cash be traded?
You can trade Tornado Cash on Bitget, BingX, and Bitrue. Popular trading pairs for Tornado Cash in the market includes TORN/USD, TORN/CAD, TORN/AUD, TORN/GBP, TORN/INR, and TORN/PHP.
What is Tornado Cash?
Tornado Cash is a decentralized, non-custodial privacy solution built on Ethereum. It improves transaction privacy by breaking the on-chain link between recipient and destination addresses. Tornado Cash uses a smart contract that accepts ETH and ERC-20 deposits. These deposits can be withdrawn by any on-chain address. Whenever an asset is withdrawn by the new address, there is no way to link the withdrawal to the deposit, ensuring asset privacy.
Tornado Cash uses zero knowledge proofs (zk-SNARKs) to achieve privacy. When a user decides to make a withdrawal, the user must provide proof that he or she possesses a secret corresponding to one of the smart contract's list of deposits. zk-SNARK technology allows this proof to be verified without the user needing to reveal which exact deposit corresponds to their secret. The smart contract then checks the proof, and transfers deposited funds to the address specified by the withdrawal transaction. Any external observer is unable to determine which deposit this withdrawal is linked to.

Read this article to learn about Tornado Cash and its workings.
What is the TORN token?
TORN is Tornado Cash's native governance token. It's a fixed-supply ERC-20 token that is used for voting on protocol upgrades and fixes.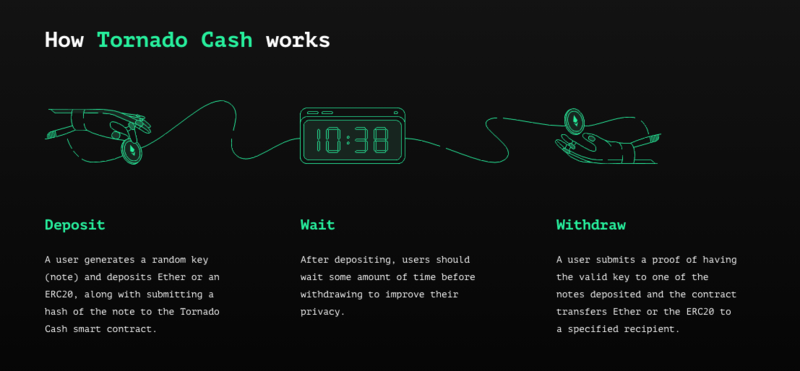 How many TORN are there in circulation?
The TORN governance token has a fixed total supply of 10,000,000. 5% of the supply is allocated to previous protocol users via an airdrop, 10% to liquidity mining rewards (distributed linearly over 1 year), 30% to founding developers and early supporters (unlocked over 3 years with a 1 year cliff), and 55% to the protocol treasury (unlocked linearly over 5 years).