Add Arbitrum To Metamask
Sign into MetaMask and access the network dropdown menu
Click Add Network
Add Arbitrum from the list of popular networks
---
Key Takeaways:
Arbitrum is a Layer 2 scaling solution for Ethereum. It has two separate networks: Arbitrum One and Arbitrum Nova. This article will focus on adding Arbitrum One to MetaMask.

You can add Arbitrum to MetaMask through MetaMask's popular networks, entering RPC details, using ChainList, or through Arbiscan.
---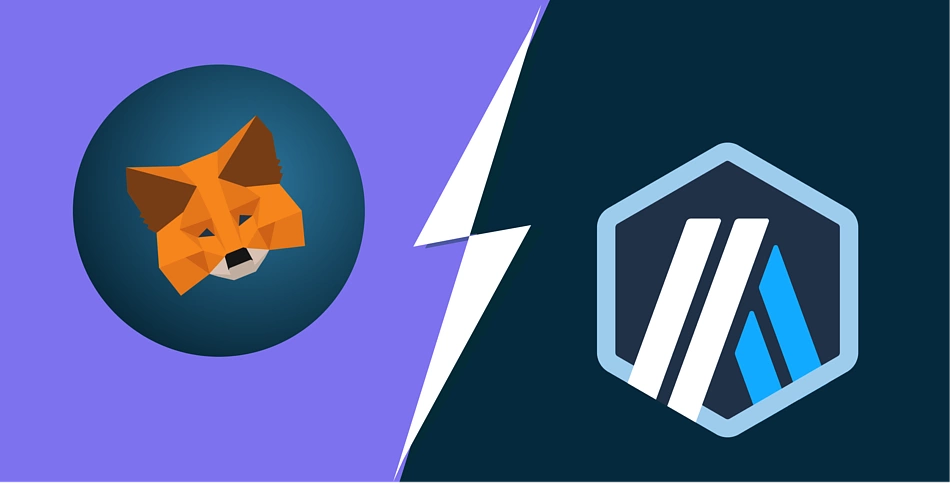 MetaMask is the most popular web3 wallet. While it was initially intended to work with Ethereum, MetaMask has expanded its functionalities to allow users to interact with multiple decentralized applications (dApps) on various networks, Layer 2 (L2) scaling solutions, and testnets. Connecting to L2 scaling solutions like Arbitrum offers users a cost-effective and high settlement speed alternative to using Ethereum directly by bundling transactions on Arbitrum together before sending it to the Ethereum blockchain as a single transaction to be processed.
This lets Arbitrum users tap into the security offered by the Ethereum Mainnet and multiple famous Ethereum dApps now support Arbitrum. While Arbitrum has two separate chains, Arbitrum One and Arbitrum Nova, Arbitrum One is the more popular chain, and this article will refer to Arbitrum One as Arbitrum.
Before you can use your MetaMask wallet to access dApps on Arbitrum, you must first add Arbitrum to MetaMask since it's not the default network on MetaMask. 
This guide assumes that you already have a MetaMask wallet. However, if you haven't, read this beginner's guide on how to set up and use MetaMask.
Adding Arbitrum To MetaMask Directly
You can add Arbitrum to MetaMask directly through MetaMask. 
Log into your MetaMask account and click on the network dropdown.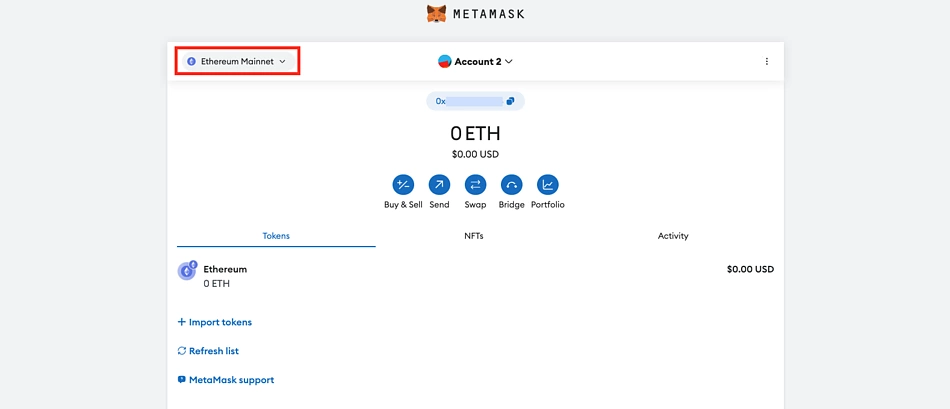 Click on Add network in the pop up window.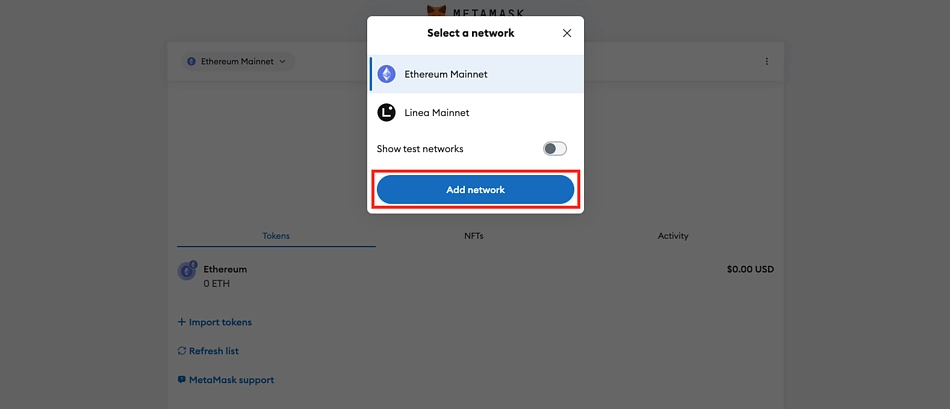 Under Popular custom networks, look for Arbitrum One and click Add.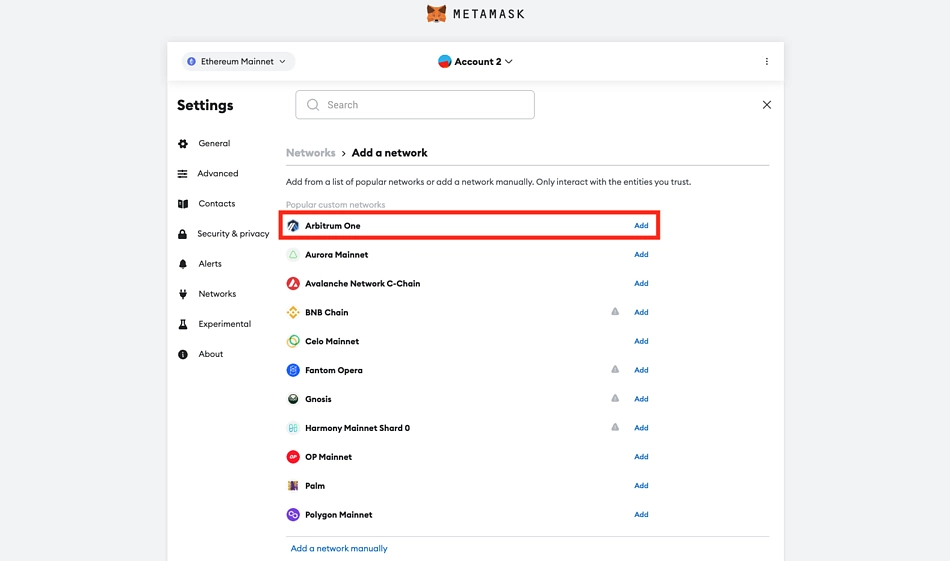 Approve the request to add Arbitrum One to MetaMask.
Add Arbitrum To MetaMask Using RPC Details
Adding Arbitrum to MetaMask manually is easy and straightforward – just like adding other Ethereum Virtual Machine (EVM) networks. All you have to do is to copy and paste the blockchain details on the Custom RPC (Remote Procedure Call) integration functionality on your MetaMask wallet. 
As above, log into your MetaMask account, click on the network dropdown, then click on Add network.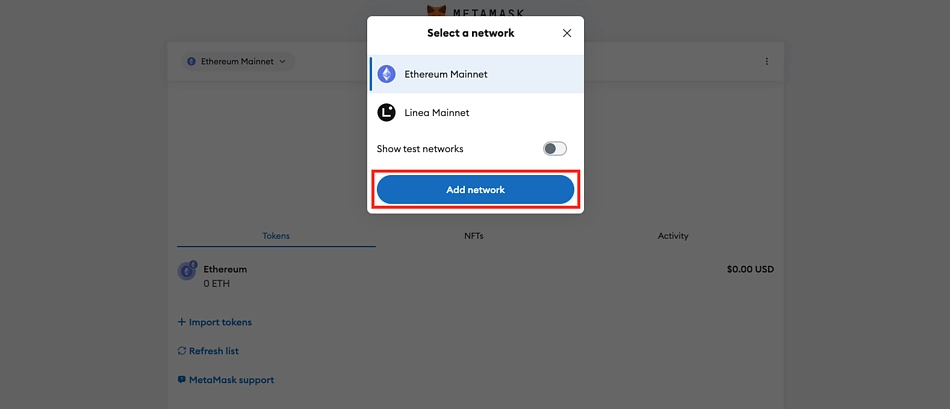 Click Add a network manually at the bottom of the Add a network screen.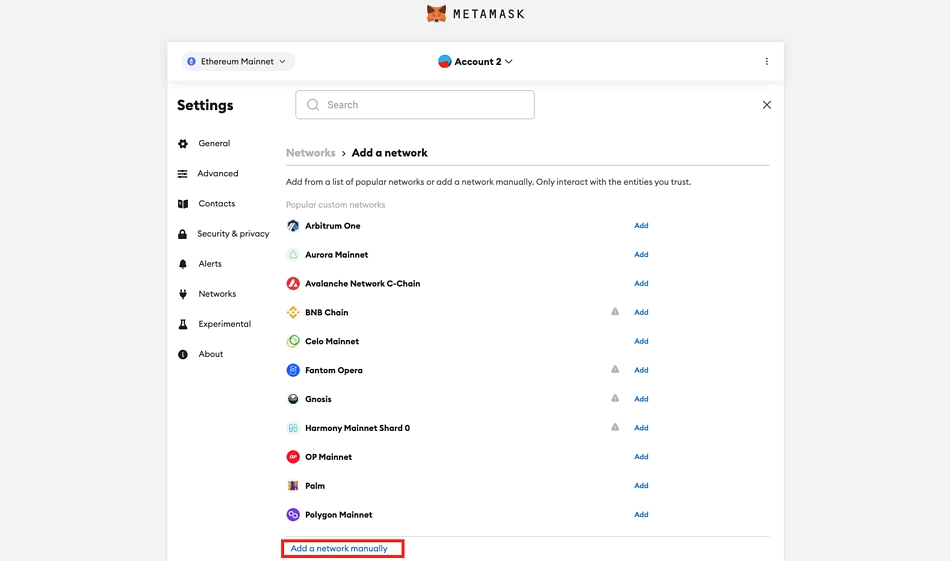 Enter Arbitrum One's RPC details:
Network Name: Arbitrum

RPC: https://arb1.arbitrum.io/rpc

Chain ID: 42161

Currency Symbol: ETH

Block Explorer URL: https://arbiscan.io
Tip: Copy and paste the details directly to avoid typos.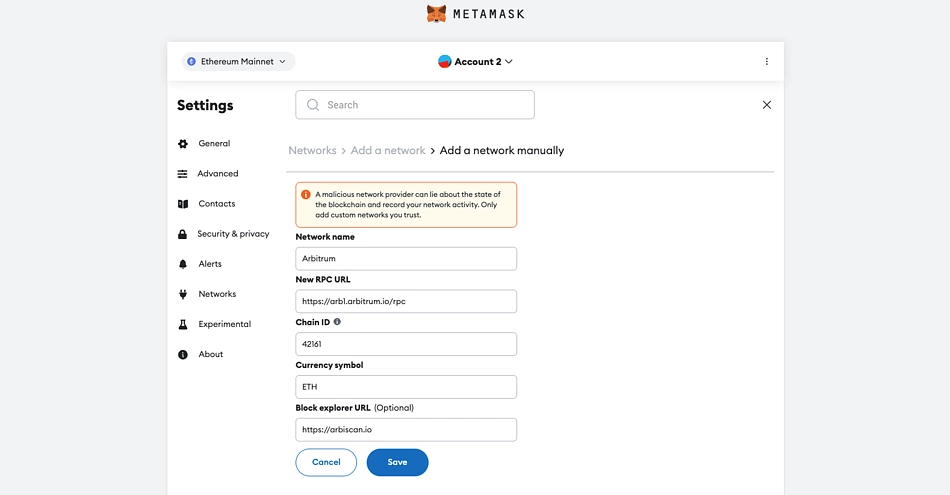 Click Save, and the Arbitrum One network will be added to your MetaMask.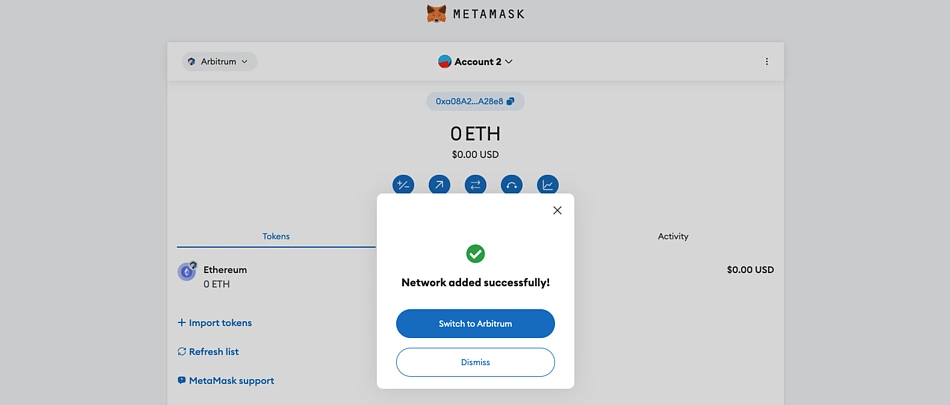 Add Arbitrum To MetaMask With ChainList
You can also add Arbitrum to MetaMask with ChainList, which offers a list of EVM networks. Users can connect networks to MetaMask directly using ChainList.
Visit https://chainlist.org/ 

Search for Arbitrum.

Click the Add to Metamask button for Arbitrum One – the ChainID is 42161.
Approve the request on MetaMask to add the Arbitrum One network.
Do note that as of time of writing, the RPC URL is a different provider from that of the known RPC URL providers for the Arbitrum network, and we recommend you verify network details before proceeding. 
Add Arbitrum To Metamask With Arbiscan
This is an easy method of adding Arbitrum to MetaMask in three simple steps:
Visit the ArbiScan website. ArbiScan is a blockchain explorer for the Arbitrum network, just like Ethereum's Etherscan. You can view Arbitrum addresses, tokens, transactions, and more.

Once you're on ArbiScan, navigate to the bottom right of the screen. You will see a MetaMask icon adjacent to the button "Add Arbitrum Network".  
Click the Approve button to allow ArbiScan to automatically change your default MetaMask wallet to Arbitrum.
MetaMask connects to multiple dApps, and anyone with your wallet address can try to connect to your account. As such, MetaMask requires its users to confirm all connection requests while logged into their MetaMask accounts.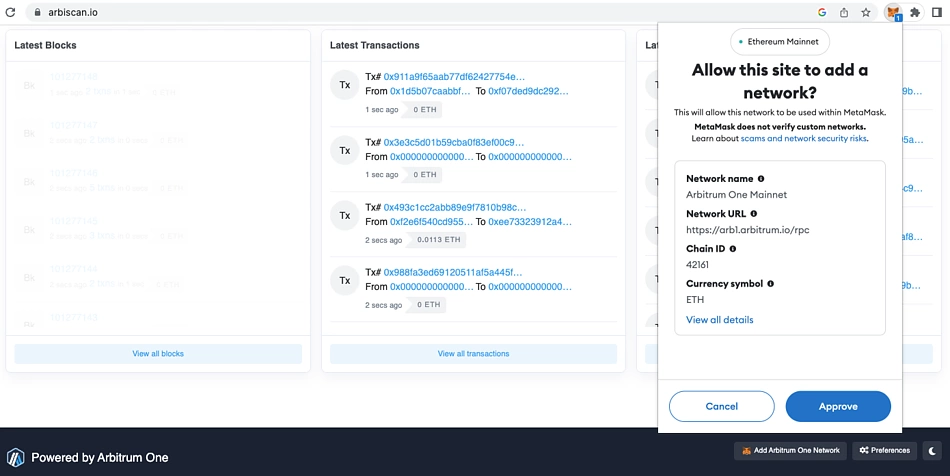 That's how easy it is to add the Arbitrum network to MetaMask through ArbiScan.
Conclusion
Arbitrum is one of the most popular Ethereum scaling solutions, which strives to minimize gas fees and boost transaction speeds on the Ethereum network. While Ethereum processes about 14 transactions per second (TPS), Arbitrum handles 40,000 TPS. Besides, Ethereum transactions cost a few dollars, while Arbitrum transactions cost around two cents to execute. 
Just a heads up, Arbitrum is a smart contract chain; hence, it may contain bugs that can lead to loss of funds. Besides, be aware of scams and rugs as it's a permissionless network where anyone can deploy a smart contract.
Learn to trade and swap on GMX, a decentralized perpetual exchange launched on the Arbitrum network.
Tell us how much you like this article!
Josiah Makori
Josiah is a tech evangelist passionate about helping the world understand Blockchain, Crypto, NFT, DeFi, Tokenization, Fintech, and Web3 concepts. His hobbies are listening to music and playing football. Follow the author on Twitter @TechWriting001