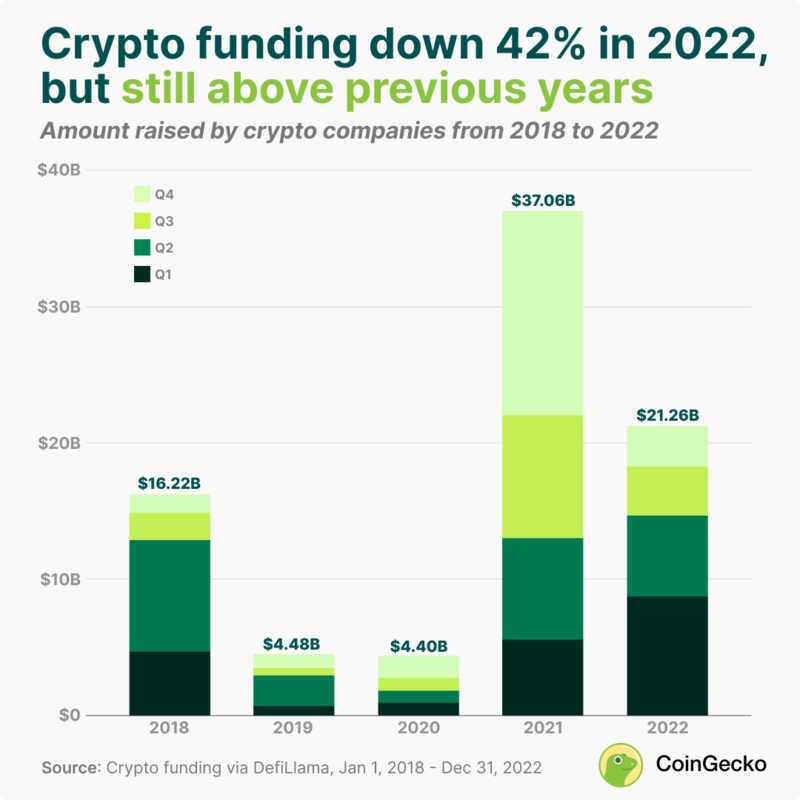 Cryptocurrency companies raised $21 billion in 2022, which was 42% less than 2021, but still higher than previous years.
Amid bearish market conditions, funding for companies in the cryptocurrency industry dwindled to $21.26 billion in 2022. While the amount raised by cryptocurrency companies last year was down 42.5% compared to 2021, it was still higher than the total funding raised each year from 2018 to 2020.
In comparison, the previous crypto winter caused an even steeper drop in funding, with companies raising only $4.48 billion in 2019, or tumbling 72.3% from the $16.22 billion raised in 2018. 2020 saw funding remain low around the same levels, as cryptocurrency companies raised $4.40 billion in total.
The relatively better funding performance in 2022 points to the cryptocurrency industry's growth over the last five years, supported by more projects securing financial backing and increasing interest from institutional investors. This includes the growth of DeFi protocols start-ups which have seen a signficant increase in demand.
Crypto funding slowed down in each successive quarter of 2022, reversing 2021's bull-market trend 
In 2022, funding for cryptocurrency companies shrank quarter-on-quarter (QoQ). $8.72 billion was raised in the first quarter (-41.8% QoQ), after an exceptionally strong fundraising performance in the last quarter of 2021. In subsequent quarters, funding going into cryptocurrency companies slowed, with companies raising progressively less at $5.92 billion in the second quarter (-32.0% QoQ), $3.61 billion in the third quarter (-38.9% QoQ) and finally, $2.99 billion in the fourth quarter (-17.1% QoQ). 
In contrast, the first quarter of 2021 started off with $5.58 billion raised (+229.2% QoQ), with the explosive spike partly fueled by hype from the DeFi summer and greater institutional interest in 2020. The industry's significant growth was distinctly reflected by an increasing amount of funding flowed into cryptocurrency companies each quarter: the second quarter of 2021 recorded $7.43 billion raised (+33.2% QoQ), followed by $8.99 billion in the third quarter (+20.9% QoQ), and the final quarter closed the year with a peak at $15.00 billion (+66.8% QoQ). 
Prior to 2021, the highest amount of funding in a single quarter was $8.19 billion in 2018 Q2.
Methodology
The study examined the amount of funding that cryptocurrency companies raised from 2018 to 2022, based on data tracked by DefiLlama.
---
If you use these insights, we would appreciate a link credit to this article on CoinGecko. A link credit allows us to keep supplying you with future data-led content that you may find useful.
Curious to find out more about our previous research studies? Check out this one we did on the top 25 countries that are most interested in Proof of Reserves.
Tell us how much you like this article!
Lim Yu Qian
Yuqian is a cryptocurrency writer and marketer who specializes in mainstream cryptocurrency insights. She's especially fascinated by the philosophical and socioeconomic aspects of crypto and also goes by the name of Q. She holds a Bachelor of Social Sciences with Honors from the National University of Singapore. Follow the author on Twitter @solosbrqt