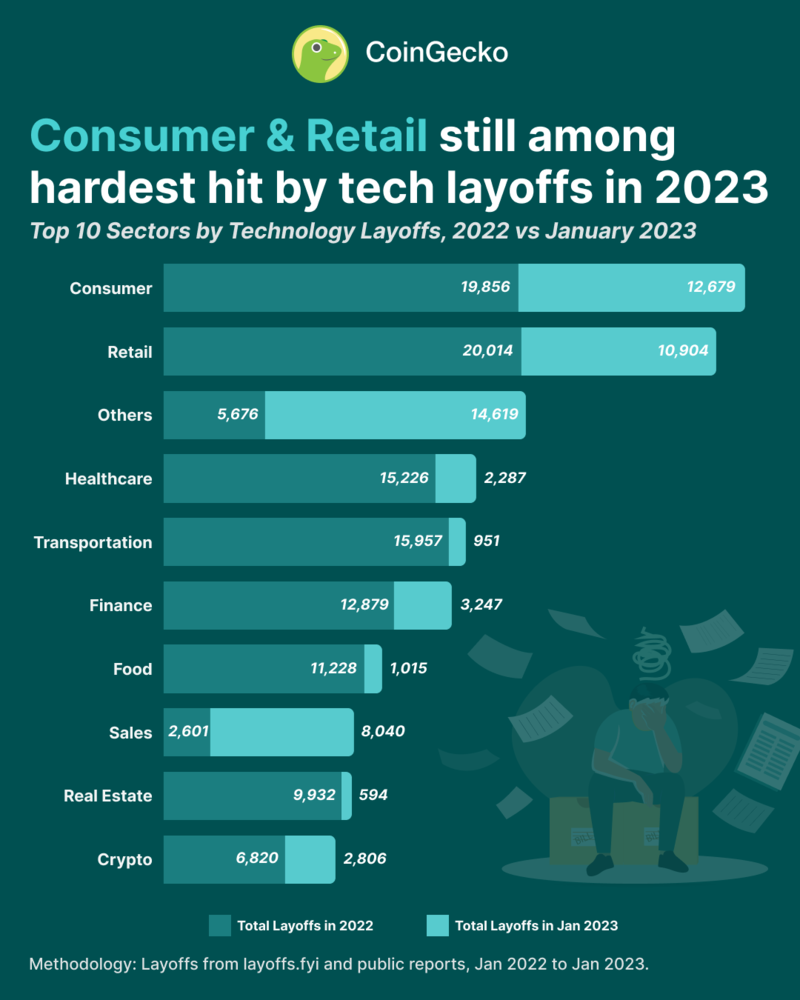 Technology layoffs that began amid challenging conditions last year, have continued into 2023, with Big Tech giants like Google and Microsoft cutting thousands of headcount each. With no end in sight for restructurings, we updated this research study examining the number of employees laid off by technology companies across sectors, from 2022 to this year.
Consumer and retail sector companies are still among the hardest hit by the technology industry's layoffs in 2023
Technology companies in the consumer sector have recorded the highest number of layoffs at a cumulative 32,535, with 19,856 jobs cut in 2022 and 12,679 in January 2023. This ranked the consumer sector as the second hardest hit by layoffs in both the year of 2022, and in 2023 to date. The retrenchments in January 2023 were mainly due to the 12,000 that were let go from Google, resulting in the consumer sector's 2023 layoffs already amounting to 63.8% of 2022 layoffs.
The retail sector was almost as badly affected, with a cumulative 30,918 number of employees laid off, of which 20,014 headcounts were cut in 2022 and 10,904 in January 2023. In other words, technology companies in the retail sector ended the year 2022 with the most layoffs, but ranked third in 2023 to date. Retail tech leader Amazon accounted for a majority of 8,000 jobs lost, similarly resulting in the retail sector's 2023 layoffs already reaching over half of 2022 layoffs, or 54.4%.
2023 already has almost half as many tech layoffs as 2022
Among the top ten hardest hit technology sectors, the number of layoffs in January 2023 alone totaled 57,142. This is equivalent to 47.5%, or almost half as many as the 120,189 layoffs recorded for the whole of 2022.
Non-sector specific companies had the highest retrenchment levels in January 2023, with 14,619 workers laid off. Microsoft and enterprise software company SAP together accounted for 13,000 of those let go. The layoffs in this single month represented a 2.5 times jump from the 5,676 recorded for the whole of last year, and ranked the 'others' sector as the third hardest hit. 
The sales technology sector also saw a notable 3 times jump in headcounts cut this year, with 8,040 employees laid off in January 2023, compared to 2,601 for the entire 2022. This was due to the 8,000 affected by restructuring at Salesforce, following a previous round of downsizing last year.
Layoffs from cryptocurrency companies maintained at 4% of technology layoffs, despite major fallouts
Although major cryptocurrency fallouts have been in the headlines for the past three months, retrenchments at cryptocurrency companies have kept pace with the wider technology layoffs. Layoffs in the cryptocurrency sector stood at 6,820 for the entire 2022, representing 4.3% of tech layoffs. This declined slightly to a 4.0% share for January 2023 layoffs, as 2,806 employees at cryptocurrency companies were affected.
That said, the number of cryptocurrency layoffs in January 2023 surged by over 12 times the average in the past year. As a result, cryptocurrency companies' downsizing this year has already amounted to 41.1% of 2022 levels.
Methodology
The study examined tech layoffs that were publicly reported from January 1, 2022, to January 31, 2023. The data was from our study tracking cryptocurrency layoffs by month, as well as from layoffs.fyi as of January 31, 2023.
---
Crypto Layoffs made up 4% of Tech Layoffs in 2022
Published on November 14, 2022
Technology layoffs among household names have sparked speculations of a second dotcom crash in recent weeks—earlier in November, Meta announced the company's first ever layoffs and Twitter's headcount was set to be cut by half, while Apple paused hiring. More recently, Amazon said it would be carrying out its largest layoffs in company history, after slowing hiring previously.#
Companies first cut discretionary spending in a tough macroeconomic environment, then adjust headcounts when the economy slows. With widespread layoffs happening across the globe, we take a closer look at how each sector in the technology industry is performing, in terms of layoffs. In this research study, we examined the number of employees laid off from technology startups in 2022 to date, across sectors.
Cryptocurrency layoffs are only 4% of technology layoffs in 2022
Prior to November, cryptocurrency companies announcing layoffs had already been making headlines one after another, as they sought to cope with the ongoing cryptocurrency winter. With the collapse of FTX since November 2 and its full impact on the cryptocurrency space still unfolding, further cryptocurrency layoffs may occur in the months to follow.
The cryptocurrency sector laid off 4,695 employees as of November 13, representing 4.0% of all technology layoffs year-to-date (YTD). This narrowly placed the cryptocurrency sector in the 10th position for layoffs across the technology industry in 2022, despite being in the media spotlight – layoffs from cryptocurrency companies just outnumbered that of companies categorized in the 'Others' sector, with 669 more employees laid off by cryptocurrency companies.
While the cryptocurrency sector currently lags behind the fitness technology and education technology (edutech) sectors, which have recorded 5,096 and 7,507 employees laid off YTD respectively, it remains to be seen whether the technology layoffs rankings will change.
Consumer, Food, Transportation sectors are hardest hit by layoffs, among the technology industry
The consumer technology sector led with the highest number of 18,486 employees laid off YTD, representing 15.6% of technology layoffs. This includes the recent high profile layoffs at Facebook's parent company Meta, which is letting go of 11,000 employees or 59.5% of consumer technology layoffs, as well as Twitter, which is laying off an estimated 3,700 employees after Elon Musk's takeover (20.0% of consumer technology layoffs). Other notable companies that have cut headcount earlier in 2022 are Snap, Bytedance and Glossier.
Food technology (Foodtech) ranked second with 13,203 employees laid off YTD, representing 11.1% of technology layoffs. Turkish instant delivery company Getir laid off an estimated 4,480 employees in May, making up 33.9% of foodtech layoffs. Other food delivery companies that contributed to foodtech layoff numbers are Gopuff, Foodpanda, Delivery Hero and Shopee. Plant-based meat companies were also among those that were hit, with Beyond Meat laying off 290 employees and Impossible Foods laying off 50 employees YTD. 
The transportation sector came in third with 11,619 employees laid off YTD, representing 9.8% of technology layoffs. Multiple used car dealers saw layoffs, with the highest number from Phoenix-based Carvana, which laid off around 2,500 employees in May, accounting for 21.5% of transportation technology layoffs. Ride hailing companies such as Lyft, Uber, Ola and Gojek were also part of the list.
Top 5 sectors accounted for the majority of technology industry layoffs, representing 53% of industry layoffs YTD
The top 5 ranking sectors alone accounted for over half of technology layoffs, with consumer, food, transport, finance and healthcare technology companies representing a combined 53.1% of industry layoffs YTD.
Financial technology (Fintech) took the fourth position with 10,665 employees laid off YTD, or 9.0% of technology layoffs. Even though cryptocurrency layoffs have somewhat overshadowed fintech layoffs, fintech companies laid off 2.3 times or more than twice the number of employees as cryptocurrency companies YTD. Payments processor Stripe accounted for one of the largest numbers with approximately 1,050 employees laid off, or 9.8% of fintech layoffs. Trading platform Robinhood laid off around the same number with 1,053 employees cut over two rounds, or 9.9% of fintech layoffs.
The healthcare technology (healthtech) sector came in fifth with 9,021 employees laid off YTD, or 7.6% of technology layoffs. 
Altogether, the top 10 sectors dominated the technology industry's layoffs in 2022 YTD, making up 82.4% of employees laid off.
Methodology
The study examined tech startup layoffs that were publicly reported between January 1, 2022 to November 13, 2022. The data for cryptocurrency layoffs was taken from our earlier study Top 15 Cities by Cryptocurrency Layoffs, with the addition of any subsequent layoffs between November 1 to 13. The data for all other sectors was based on redundancies that had been tracked on the website layoffs.fyi as of November 13, 2022. 
Similarly, the sector classifications followed the industry designation by layoffs.fyi. While the sector classification used in this study is mutually exclusive, we acknowledge that there may be companies with businesses that in reality fall into more than one sector, such as parent companies with multiple business lines and fintech companies that also have cryptocurrency offerings.
# Updated Nov 18
---
If you use these insights, we would appreciate a link credit to this article on CoinGecko. A link credit allows us to keep supplying you with future data-led content that you may find useful.
Curious to find out more about our previous research studies? Check out this one we did on How Does Cryptocurrency Compare to Major Asset Classes?
Tell us how much you like this article!
Lim Yu Qian
Yuqian is a cryptocurrency writer and marketer who specializes in mainstream cryptocurrency insights. She's especially fascinated by the philosophical and socioeconomic aspects of crypto and also goes by the name of Q. She holds a Bachelor of Social Sciences with Honors from the National University of Singapore. Follow the author on Twitter @solosbrqt