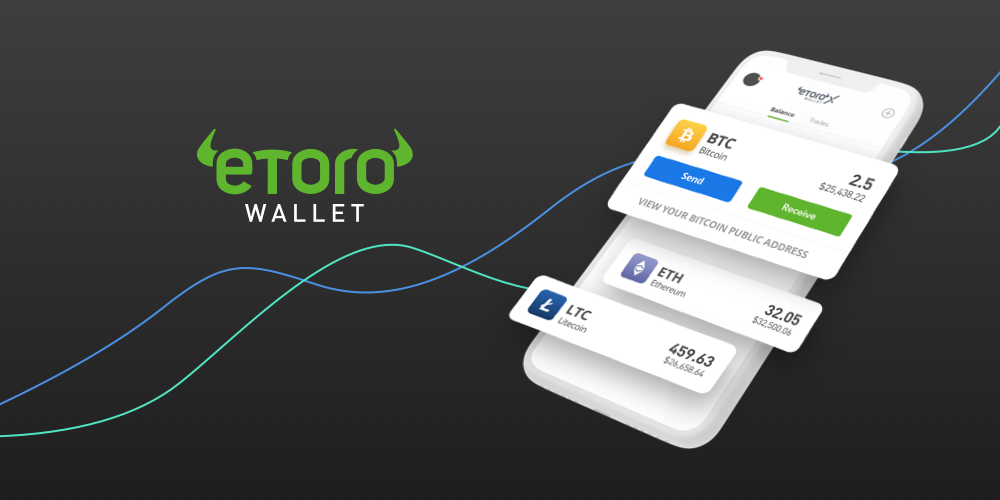 Earlier this month, global cryptocurrency and fiat trading platform eToro announced the release of its own cryptocurrency wallet, the Etoro Blockchain Wallet under the entity Etoro X. At first, the launch was phased from eToro's own top users and slowly over a handful of countries. However, by now it is available worldwide and everyone should be able to download and use the eToro Blockchain Wallet via Google Play Store and Apple App Store.
To use the Blockchain Wallet, you need to have the main eToro app installed and connected to your account. Sign up is easy if you haven't gotten an account on eToro, you will need to go through user-friendly verification to get your account activated, which will allow you to use the Blockchain Wallet (You don't need to trade on eToro to use the Blockchain Wallet).
At launch, users will be able to store Bitcoin, Ethereum and Litecoin in their eToro wallet. eToroX has stated that the number of supported cryptos will increase over time.
The Blockchain Wallet app is easy to use even for first-timers. The Wallet saves the user the need to remember private keys or setting transaction fees, as it is all handled by eToroX.
Sending cryptocurrency is also made easy for the end user. You can choose to send the coins either based on USD value or the value of cryptocurrencies itself. You won't need to calculate the approximate amount in ETH if you want to send $10.
As eToro brings the mainstream finance and cryptocurrency world closer, unveiling the Blockchain Wallet makes it easier for first-time crypto traders to easily store and use their cryptocurrency without needing to worry too much the intricacies of the Blockchain technology.
Tell us how much you like this article!
Kristian Kho
Market Research Analyst at CoinGecko and cryptocurrency fan since 2014. I like to geek out about things in the crypto space. You can read some of my stuff at kristiankho.com. Follow the author on Twitter @Kristian_Kho