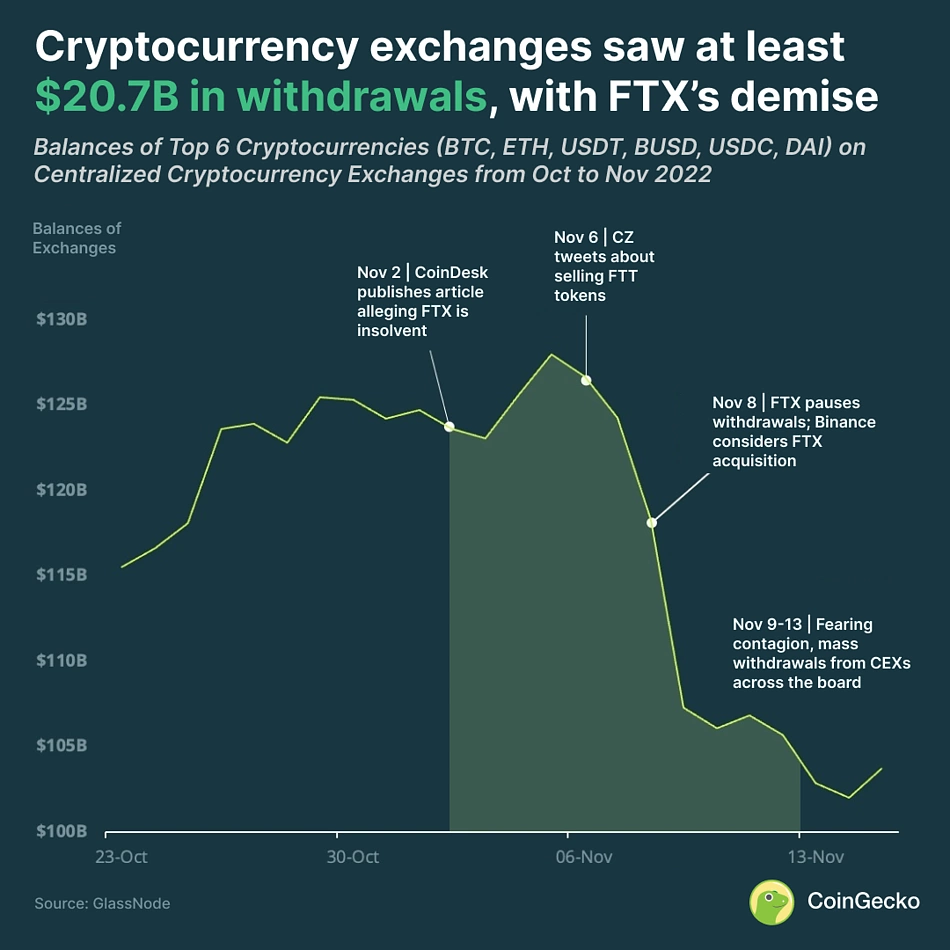 Centralized cryptocurrency exchanges saw at least $20.7B in withdrawals, as FTX collapsed.
The collapse of FTX, at the time one of the world's largest centralized cryptocurrency exchanges, prompted users across centralized exchanges to take custody of their own funds. As users withdrew their funds off centralized cryptocurrency exchanges (CEXs), exchange balances dropped by $20.7 billion, from $123.6 billion on November 2 to $102.8 billion on November 13. Within less than a fortnight, CEX balances of the top six major cryptocurrencies had fallen by approximately 16.8%.
Over $7.5B withdrawn from FTX in week of collapse
On November 2, CoinDesk published an article which alleged that trading firm Alameda Research's leaked balance sheet showed it was largely reliant on sister company FTX's exchange token FTT. While this set off some jitters in the community, exchange balances only dipped slightly before rebounding. 
On November 6, Binance CEO Changpeng Zhao (CZ) tweeted that Binance would sell its entire FTT holdings. This prompted a loss of confidence in FTX and marked the start of the scramble to withdraw funds from CEXs.
FTX users rushed for the exits, and by the time FTX halted withdrawals on November 8, over $7.5 billion of the top six major cryptocurrencies had been withdrawn from the exchange since November 2. The majority of FTX withdrawals had taken place following CZ's tweet, with over $4.9 billion withdrawn in the three days from November 6 to 8.
From November 2 to 8, total crypto exchange balances fell by $5.3 billion to reach a total of $118.2 billion. Between November 6 to 8, the decrease in CEX balances was recorded at $8.3 billion. This decrease represented the amount that users had withdrawn entirely off centralized crypto exchanges, driven by fears around potential contagion effects – including significant institutions that face massive losses in wake of FTX's collapse.
FTX's native utility token, FTT plunged 90% wiping out over $2.6 billion
FTT, while still tradeable, has seen its price plummet by 90%, collapsing alongside the now-defunct centralized exchange. FTT broke its ~$22 support and reached $2.10 on November 13, losing $2.6 billion in market capitalization (-90.4%) and shrinking to just $0.2 billion.
Methodology
The study looked at the two largest cryptocurrencies (BTC, ETH) and four largest stablecoins (USDT, USDC, BUSD, DAI) by market capitalization, and examined their balances on centralized cryptocurrency exchanges, including Binance, Coinbase and Kraken. The data was taken from Glassnode, for the period of October 23 to November 15, 2022.
The prices for each day were converted to USD for at 00:00 UTC on the following day. The sum of all six assets were also calculated on a daily basis, to determine the total amount of exchange balances.
---
If you use these insights, we would appreciate a link credit to this article on CoinGecko. A link credit allows us to keep supplying you with future data-led content that you may find useful.
Looking for more information on what happened with FTX? Check out this one we did reviwing the Market Share of Crypto Exchanges, based on Daily Trading Volume.
Tell us how much you like this article!
Lim Yu Qian
Yuqian is a cryptocurrency writer and marketer who specializes in mainstream cryptocurrency insights. She's especially fascinated by the philosophical and socioeconomic aspects of crypto and also goes by the name of Q. She holds a Bachelor of Social Sciences with Honors from the National University of Singapore. Follow the author on Twitter @solosbrqt