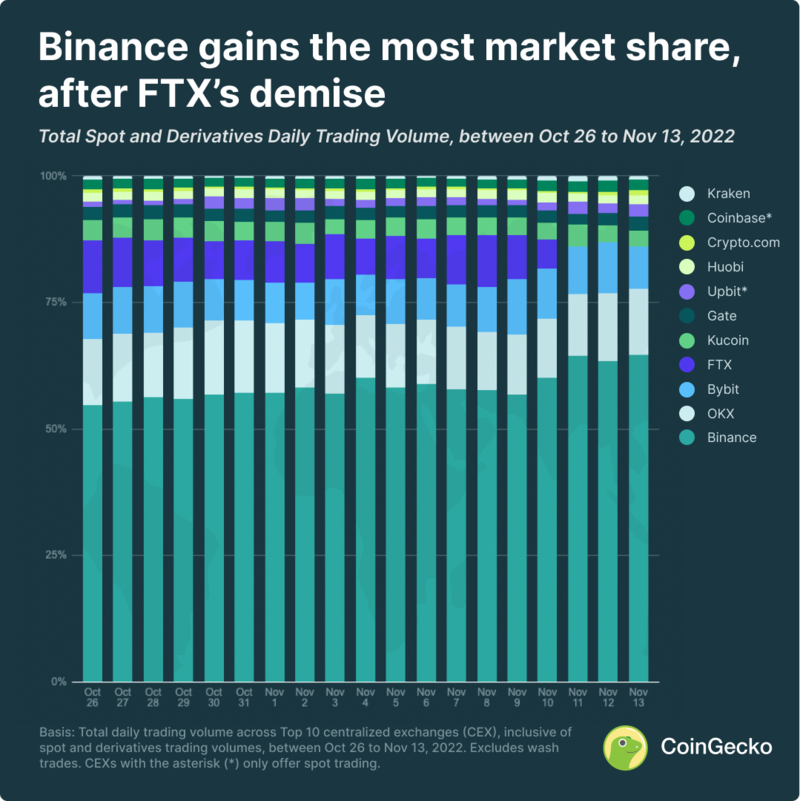 Binance benefits from FTX's demise, dominating with 64% market share across the Top 10 cryptocurrency exchanges
Competitors have naturally increased their dominance with FTX's collapse. Within the last three days from November 11 to 13, Binance has seen a 7 percentage point increase in market share, from 57% to 64%. Meanwhile, OKX's market share went from 11.9% to 13% (1.1 percentage points).
Other centralized cryptocurrency exchanges in the top 10 did experience a jump in trading volume, but this was not enough for them to gain market share against Binance and OKX.
Panic in the cryptocurrency space drove up volatility, with a 120% uptick in average daily trading volume
The collapse of one of the largest exchanges by trading volume had caused a sharp downturn in cryptocurrency prices. Many investors were either selling large portions of their holdings, or trading derivatives. In turn, this drove trading volumes up by 120% across the board.
There has been a visible uptick in total trading volume on CoinGecko, throughout November 8 to 13, since FTX's announcement that Binance was potentially looking to acquire the ailing exchange. On November 10, FTX paused trading on its platform. Soon after, FTX filed for Chapter 11 bankruptcy, with user funds still stuck on the centralized cryptocurrency exchange.
There are a few reasons explaining such high volatility and increased trading volumes – first, the market reacted to the unexpected collapse of FTX, within a matter of days. Contagion effects of FTX's downfall saw an investor selloff of tokens of which FTX invested in, thus contributing to higher trading volumes. Finally, a better than expected CPI data release from the U.S. on November 10, saw a short-term relief pump in the crypto market.
Now-defunct FTX remains in the Top 10 cryptocurrency exchanges list, for November 2022
The now-defunct exchange FTX saw over $141 billion in trading volume between November 1 and 10 – and has likely seen enough trading volume to place itself amongst the top 10 for the rest of November 2022, despite how trading has since been disabled as of November 10. It is currently the fourth largest exchange by trading volume, while Kucoin places fifth, with nearly 60% lower trading volume at $57 billion.
Crypto.com, which is 10th in the rankings, has pushed $9.3 billion in trading volume thus far, and is 93% lower than FTX's trading volume in the first 10 days of November.
Methodology
This study examines total daily trading volume across Top 10 biggest centralized cryptocurrency exchanges (CEX), namely Binance, OKX, Bybit, FTX (now defunct), Kucoin, Gate, Upbit*, Huobi, Crypto.com, Coinbase* and Kraken, and includes spot and derivatives trading volumes, between Oct 26 to Nov 13, 2022. The data set excludes wash trades.
CEXs with the asterisk (*) do not offer derivatives trading, and hence only have spot trading volumes available.
 
---
If you use these insights, we would appreciate a link back to this article on CoinGecko. A link credit allows us to keep supplying you with future data-led content that you may find useful.
Curious to know out more about the crypto landscape? Check out how cryptocurrency compares to other major asset classes.
Tell us how much you like this article!
Julia Ng
Julia leads Growth at CoinGecko and is passionate about onboarding more women onto Web3. That said, she is generally poor at timing the market, so she DCAs for safety. Follow the author on Twitter @ngxinyajulia